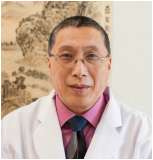 Chinese Medicine Prescriptive Methodologies

The first Chinese Prescriptive Methodology can be summed up in four Chinese words:
辨證論治 bian zheng lun zhi. This means that, no matter what the patient's disease diagnosis is, professionally administered Chinese medical treatment is primarily predicated on the patient's Chinese pattern differentiation. It is in general known as Pattern Diagnosis.

The second Chinese Prescriptive Methodology can be summed up in another four Chinese words: 辨病論治 bian bing lun zhi. With this methodology, treatment is based primarily on disease diagnosis. Both Chinese Medicine and Western Medicine use this methodology. With Western Medicine, same disease will always get the same treatment. With Chinese Medicine, however, same disease may not always get the same treatment. Two patients with the same named disease will only get the same treatment if their patterns are the same. Otherwise, they will be treated differently.
---
Osteoarthritis
is also called degenerative joint disease, osteoarthrosis, and hypertrophic osteoarthritis. Osteoarthritis (OA) is a joint disease chracterized by loss of articular cartilage and hypertrophy of the bone producing osteophytes or bone spurs. It is the most common articular disorder. Acupuncture is an effective means to treat osteoarthritis. See the following article for a national study result: http://altmedicine.about.com/od/alternativemedicinebasics/a/Acup_Arthritis.htm.
Osteoarthritis is divided into two broad categories: primary and secondary. Primary generalized OA typically involves the distal and proximal interphalangeal joints, the first carpo-metacarpal joint, the interverbral disks and zygaprophyiseal (facet) joints in the cerval and lumbar vetebrae. Secondary OA appears to result from conditions changing the microenvironment of the chondrocytes. These include metabolic, endocrine, and neuropathic diseases, diseases that alter normal structure and function for the hyaline cartilage, and trauma to the hyaline cartilage or surrounding tissues. This trauma also includee micor-trauma due to prolonged repetition of specific movements and overuse.
Pain is the earliest symptom of the disease. It is usually worsened by exercise and relieved by rest. Morning stiffness follows inactivity but lasts less than 15-30 minutes and lessens with movement. As OA progresses, joint mobility diminishes, tenderness and crepitus appear, and flexion contractures may develop. Proliferation of cartlage, bone, ligament, tendon, capsules, and synovium, along with varying amounts of joint effusion, ultimately produces the jont enlargement characteristic of this disease.
The Western medical diagnosis of osteoarthiritis is based on signs and symptoms and on x-ray. X-ray generally reveals narrowing of the joint space, increased density of the subchondral bone, ostephyte formation at the periphery of the joints, and pseudocytes in the subchondral marrow. ESR is normal or only moderately increased. Blood studies help rule out other disease with similar symptoms, such as rheumatoid arthritis and gout. The Wstern medical treatment of OA involves lifestyle and activity counseling, such as the avoidance of soft, deep chairs by those with osteoarthritis of analgesics, such as NSAIDs. Muscle relaxants may be temporarily prscribed to relieve pain arising from muscle strained attempting to support OA joints. However, drug therapy comprises only 15% of a total treatment program and is the least important aspect of optimum management. Adjuctive treatments inlcude transcutaneous electrical stimulation and local rubs such as with capsaicin. Surgery, including laminectomy, osteotomy, and total joint replacement, may be used when conservative therapy fails.
The Chinese medical diagnosis of oesteoarthritis falls withi nthe general category of bi zheng (impediment conditions. Treatment is based on pattern discrimination. There are several most common OA related patterns.
1. Moving Impedeiment Pattern Main Symptoms: Migratory joint aching, pain and soreness which is not fixed in location, aggravation of pain with the weather, i.e., low pressure systems, possible accompning aversion to wind and fever. Treatment Principles: Dispelling wind-damp-cold with acupuncture and herbs.
1. Painful Impediment Pattern Main Symptoms: Sever joint aching and pain which may feel like being cut with a knife, spasms, and contactures, aggravation on exposure to cold, relief on obtaint of warmth, pain which is relatively fixed in location, pain which is better during the day and worse at night, inhibited flexion and extension of he joint, emmisin of collness of the skin in the affect area and no redness or hotness. Chinese Medicine Treatment Principles: Dispelling cold-damp with acupuncture and herbs.
3 Fixed Impediment Pattern Main Symptoms: Joint aching, pain, soreness, numbness, and heaviness which is fixed in location, marked swelling of the affected area, difficulty flexing and extending the joint, worse pain in damp envireonments or rainy weather, worse pain in the lower half of the body. Chinese Medicine Treatment Principles: Dispelling cold-damp with acupuncture and herbs.